A Cute Story About My Son
by Sharon
(Oregon, USA)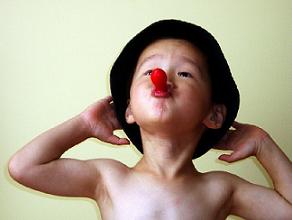 Picture of a Little Boy
My son is 4 1/2 years old. He is funny, animated, and very verbal.

He has never been much for sleeping. Ever since he came home, he has slept only intermittently. Other than that, he sings, plays, and chats with friends that only he can see.

It is not uncommon to hear the theme from Dora The Explorer coming through the baby monitor in the middle of the night.

But the most fun I have is listening to his conversations. He holds very detailed conversations with friends we cannot see. They feel very real and he seems to enjoy the time.

Last week he ate all of his lunch without prodding and I gave him Oreos as a treat. My son rushed into his empty bedroom and announces, "Look guys, I have Oreos. Anyone wanna share?"

I hope he remembers them when he is older. They are his first best friends.
Join in and write your own page! It's easy to do. How? Simply click here to return to Favorite Family Quotes.