Funny Quote by Yogi Berra
by Patricia
(Indianapolis, IN, USA)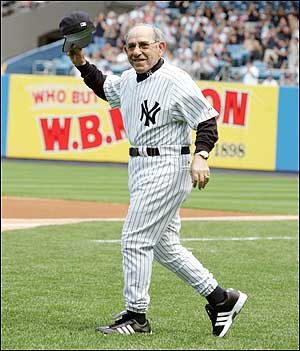 Yogi Berra Picture
One of many funny quotes by Yogi Berra:

"You've got to be very careful if you don't know where you are going because you might not get there."

Yogi is a great guy with many funny quotes. He takes life seriously but not too seriously. He knows how to have a laugh. He knew that people laughed at his malapropisms and he didn't care.

He's had a successful life and is extremely respected in his profession. He had dogged determination and succeeded because of it.

I'm really inspired by him because I think he sets a great example; matter-of-fact, down-to-earth, any one of those describes him well.

And he still shows up regularly at the ball park, coaches players in spring training, signs autographs for fans, makes visits to the broadcast booth, and generally is very active, not to mention the baseball museum he has in New Jersey, which has a lot of inspirational programs for young people.
Join in and write your own page! It's easy to do. How? Simply click here to return to Favorite Funny Quotes.