Holiday Quotation by Kirk Franklin
by Kristen
(Gulf Shores, AL, USA)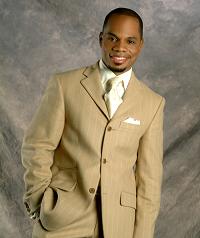 Kirk Franklin Picture
"Jesus is the reason for the season."

By Kirk Franklin

This quote has influenced me because we tend to forget that Jesus is the reason why we even have a Christmas holiday, and that we need to use this day to celebrate His birth.

This day is to show Jesus that we appreciate him dying on the cross for us. We tend to get stressed if we cannot buy gifts for everyone. But Christmas is about celebrating.

This quote is special to me because it helps me to remember that Jesus is my gift, He gave Himself for the redemption of my sins. I am reminded that He is in heaven; sitting at the right hand of God and one day when I leave this earth, I will be with Him. I am reminded to keep Him first in my life.

This relates to my life experiences in many ways. First, Jesus is the reason why there is life, and He is the reason why we continue to have a chance at everlasting life.

It helps me to know that no matter what I do in my life, that with a repentant heart, I will receive what is promised over my life.
Join in and write your own page! It's easy to do. How? Simply click here to return to Favorite Holiday Quotes.