Humorous Quote by Groucho Marx
by Jeff
(Cleveland, OH, USA)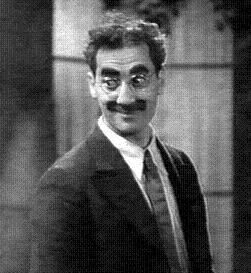 Picture of Groucho Marx
My favorite inspirational quote is,

"Outside of a dog, a book is a man's best friend. Inside a dog, it's too dark to read".

This is by Groucho Marx.

He is so hilarious. I love all of the Marx brothers' movies. His sense of humor has really inspired me through the years.

And it is such a versatile quote. It is about dogs. It is about books. I always have it ready to use in my mind when I am doing a training.

I love his wit. I love to read and I love dogs so this quote is a natural for me. It really helps me relax and connect with the audience when speaking publicly. It is simple and it rolls off the tongue.