I Corinthians 13:7-8
by Kim
(Myrtle Beach, SC, USA)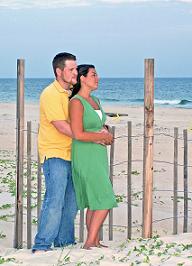 Picture of Young Couple at the Beach
I Corinthians 13:7-8 Written by the apostle Paul

"Love bears all things, believes all things, hopes all things, endures all things. Love never ends."

--I Corinthians 13:7-8

This quote has been my favorite since I was a young teen. It has inspired me in my walk with the Lord, my friendships, my relationships, and my now 30+ year marriage. Love is unconditional. This is the way the Lord wants us to love, and He goes on at the end of this chapter to say that love is the most important of all.

I think about the children I teach and how many of them have single parent families. If only the adults who created them would have pledged to love each other in this Biblical way before becoming intimate, then these children would have two parents the way our Lord intended.

Too many people today don't want to make long-term commitments. The divorce rate shows that. Young people fall in lust and move in together without making any kind of commitment to each other. They become discouraged when relationship after relationship fails.

What a world we would have if we all loved each other this way!
Join in and write your own page! It's easy to do. How? Simply click here to return to Favorite Bible Quotes.