Inspirational Life Quote - "Finding the Good in Life"
by Judy
(Oregon)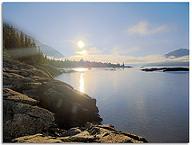 Inspirational Picture
When I was about 13 years old, I asked my mother why people often thought of Friday the 13th as 'bad-luck' days; her reply has meant a lot to me over the decades.

She said, "If you look for the good in life, you will find it".

Because most people focus on negative and unfortunate occurrences, on Friday the 13th, they do not see the 'good' things that surround them, every day.

Despite being hit by a 6-Ton tow truck, (at age 19), and suffering from retrograde amnesia for 9 years following this accident, before finally recovering enough of my childhood memories to rebuild my life, I continue to look for the good in life, and can only thank God for all that He has done for me.

Today, at age 59, after having been diagnosed with 2 different kinds of cancer in the past 6 years; beating one (breast), and still fighting the second (Stage 4 for 4 1/2 years, with kidney cancer, now in my left lung), I still can only give thanks to God.

And I am surrounded by His goodness, and look to find the good things in life; enjoying every Friday the 13th, when it arrives...my very special, good-luck days. An inspirational gift of perception, from my mother; one that keeps on giving!