Inspirational Quote by Henry Van Dyke
by Jerry Ustaitis
(Rutland, MA, USA)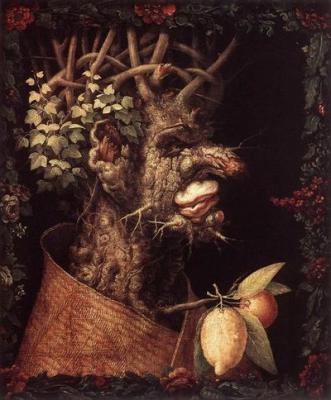 Dark Cold Winter Picture by Giuseppe Arcimboldo
From: "A Short Christmas Sermon" "Keeping Christmas"

Henry van Dyke writes: "Are you willing ... to own, that probably the only good reason for your existence is not what you are going to get out of life, but what you are going to give to life; to close your book of complaints against the management of the universe and look around you for a place where you can sow a few seeds of happiness ... to make a grave for your ugly thoughts and a garden for your kindly feelings ...? Then you can keep Christmas."

Christmas is over and the new year is about to begin and although a good time was had by all, I still felt as though something was missing.

On today's Editorial page was a quote of a quote of a Quote. Maureen Dowd quoting Jacqueline Kennedy's book, quoting Henry Van Dyke.

The thought in the quote touched something inside me. "Sow a few seeds of happiness"? "Plant a garden for your good feelings?"

I could feel my good feelings growing reading these words. Maybe I could plant a little garden with my granddaughter, when she visits this New Years Eve, which would blossom through out the coming year.

That would make the dark cold winter short indeed.
Join in and write your own page! It's easy to do. How? Simply click here to return to Favorite Inspirational Quotes.