Matthew 5:16
by Zack Lever
(Huntsville, AL)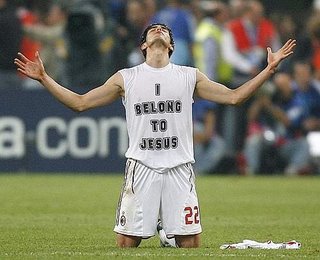 Picture of a Christian Athlete
Author of Matthew 5:16 was Matthew and was inspired by God.

I was listening to the radio recently and the Bible verse for the day was read and it was Matthew 5:16. This verse was inspiring to me and I was able to have discussions about it with my close friends.

The Bible verse says,

"In the same way, let your light shine before men, that they may see your good deeds and praise your Father in heaven."

--Matthew 5:16

I have been blessed with athletic skills and abilities and when I play soccer or basketball, I am able to perform well because of how God made me.

This verse means a lot to me because when I am able to do good on the court or field I can give glory to God so that others will praise Him as well. Lots of superstars are worshiped and praised for their athleticism and lose sight that they were created by God, for God.

I want to give God the glory for all that He has provided me with.
Join in and write your own page! It's easy to do. How? Simply click here to return to Favorite Bible Quotes.