Quote by George W. Bush
by Chris Phillips
(Greenwich Ohio)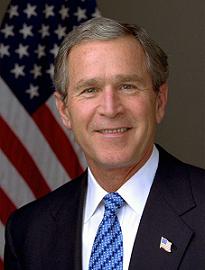 Picture of George W. Bush
"Terrorist attacks can shake the foundations of our biggest buildings, but they cannot touch the foundation of America. These acts shatter steel, but they cannot dent the steel of American resolve."

--George W. Bush

I love this quote because it shows that mere terrorists can never cause our great country to falter, no matter how many buildings and innocent civilians they destroy.

This quote should be aired on the news stations to remind the American people of the reason we are fighting terrorists in the Middle East.

This quote has motivated me to fully support the Republican Party, mainly George Bush, in their efforts to destroy radical Islam and its many branches.

Its influence on my life has been substantial, forming the core of my political values and my daily reflections.
Join in and write your own page! It's easy to do. How? Simply click here to return to Favorite Life Quotes.