Top 10 List -
Famous Art Quotes & Sayings
Are you looking for a list of famous art quotes and sayings? If so, you've definitely come to the right place. I've gathered and compiled an incredible collection of art quotations for you to use. I hope you enjoy these great quotes about art!

My Favorite Quote About Art Of All Time...


I do not want life to imitate art. I want life to be art.

Carrie Fisher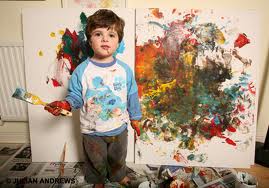 Top 10 Famous Art Quotes & Sayings
Art Quotations #1
Art enables us to find ourselves and lose ourselves at the same time.
Thomas Merton

Art Quotations #2
As the sun colors flowers, so does art color life.
John Lubbock

Art Quotations #3
Great art picks up where nature ends.
Marc Chagall

Art Quotations #4
The art of art, the glory of expression and the sunshine of the light of letters, is simplicity.
Walt Whitman

Art Quotations #5
Great art is the outward expression of an inner life in the artist.
Edward Hopper

Art Quotations #6
Simplicity is the essence of the great, the true, and the beautiful in art.
George Sand

Art Quotations #7
Art is a fruit that grows in man, like a fruit on a plant, or a child in its mother's womb.
Jean Arp

Art Quotations #8
I don't believe in an art that is not born out of man's need to open his heart.
Edvard Munch

Art Quotations #9
Good art is not what it looks like, but what it does to us.
Roy Adzak

Art Quotations #10
Art is the desire of a man to express himself, to record the reactions of his personality to the world he lives in.
Amy Lowell

I hope you've enjoyed this Top 10 List of Quotes About Art.
Didn't find the quotes about art you were looking for?
Search my site or the web below:
---
Return To Famous Art Quotes Top

Return From Quotes About Art To Scrapbooking Quotes

Return From Quotes About Art To Home Page