Top 10 List -
Autumn Quotes & Quotations
If you're looking for a great collection of Autumn Quotes & Quotation...you've definitely come to the right place. This list includes some of the most wonderful quotes about autumn ever written. Enjoy these great autumn quotations!

My Favorite Autumn Quotation Of All Time...


Autumn, the year's last, loveliest smile.

William Cullen Bryant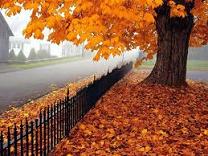 Top 10 Autumn Quotes & Sayings
Quotes About Autumn #1
Everyone must take time to sit and watch the leaves turn.
Elizabeth Lawrence

Quotes About Autumn #2
Autumn is a second spring when every leaf is a flower.
Albert Camus

Quotes About Autumn #3
No spring nor summer beauty hath such grace, as I have seen in one autumnal face.
John Donne

Quotes About Autumn #4
Winter is an etching, spring a watercolor, summer an oil painting and autumn a mosaic of them all.
Stanley Horowitz

Quotes About Autumn #5
Bittersweet October. The mellow, messy, leaf-kicking, perfect pause between the opposing miseries of summer and winter.
Carol Bishop Hipps

Quotes About Autumn #6
For man, autumn is a time of harvest, of gathering together. For nature, it is a time of sowing, of scattering abroad.
Edwin Way Teale

Quotes About Autumn #7
Every leaf speaks bliss to me, fluttering from the autumn tree.
Emily Bronte

Quotes About Autumn #8
Every season hath its pleasures; Spring may boast her flowery prime, yet the vineyard's ruby treasures brighten Autumn's sob'rer time.
Thomas Moore

Quotes About Autumn #9
Autumn's the mellow time.
William Allingham

Quotes About Autumn #10
Delicious autumn! My very soul is wedded to it, and if I were a bird I would fly about the earth seeking the successive autumns.
George Eliot

I hope you've enjoyed these incredible Autumn Quotations.
Didn't find the autumn quotations you were looking for?
Search my site or the web below:
---
Return To Autumn Quotes Top

Return From Autumn Quotations To Scrapbooking Quotes

Return From Autumn Quotations To Home Page