Top 10 List -
Easter Quotes
This amazing list of Easter Quotes and Quotations will help you enjoy this wonderful holiday. If you're looking for the best Easter quotations...you've definitely come to the right place. This list includes some of the most incredible quotes about Easter ever written. Enjoy these great quotes!

My Favorite Quote For Easter Of All Time...


Easter spells out beauty, the rare beauty of new life.

S.D. Gordon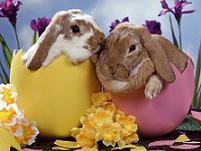 Top 10 Easter Quotes
Easter Quotations #1
Easter is the demonstration of God that life is essentially spiritual and timeless.
Charles M. Crowe

Easter Quotations #2
Let every man and woman count himself immortal. Let him catch the revelation of Jesus in his resurrection. Let him say not merely, "Christ is risen," but "I shall rise".
Phillips Brooks

Easter Quotations #3
For I remember it is Easter morn, And life and love and peace are all new born.
Alice Freeman Palmer

Easter Quotations #4
The resurrection gives my life meaning and direction and the opportunity to start over no matter what my circumstances.
Robert Flatt

Easter Quotations #5
Let the resurrection joy lift us from loneliness and weakness and despair to strength and beauty and happiness.
Floyd W. Tomkins

Easter Quotations #6
Easter says you can put truth in a grave, but it won't stay there.
Clarence W. Hall

Easter Quotations #7
Our Lord has written the promise of the resurrection, not in books alone, but in every leaf in springtime.
Martin Luther

Easter Quotations #8
Spring bursts today, For Christ is risen and all the earth's at play.
Christina G. Rossetti

Easter Quotations #9
The great gift of Easter is hope - Christian hope which makes us have that confidence in God, in his ultimate triumph, and in his goodness and love, which nothing can shake.
Basil C. Hume

Easter Quotations #10
But from this earth, this grave, this dust, My God shall raise me up, I trust.
Walter Raleigh

I hope you've enjoyed this Top 10 List of Quotes For Easter.
Didn't find the quotes you were looking for?
Search my site or the web below:
---
Return To Easter Quotes Top

Return From Quotes For Easter To Holiday Quotes

Return From Easter Quotes To Home Page