Top 10 List -
Funny Shopping Quotes
Do you love to shop? I mean really love to shop? If so, you're going to enjoy these Funny Shopping Quotes. This list includes some of the best quotes about shopping ever written. Enjoy these great quotes...I'm sure they'll make you smile!

My Favorite Quote About Shopping Of All Time...


Whoever said money can't buy happiness simply didn't know where to go shopping.

Bo Derek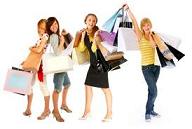 Top 10 Funny Shopping Quotes
Shopping Quotes #1
I always say shopping is cheaper than a psychiatrist.
Tammy Faye Bakker

Shopping Quotes #2
I don't shop because I need something, I just shop for shopping's sake.
Cat Deeley

Shopping Quotes #3
A bargain is something you can't use at a price you can't resist.
Franklin P. Jones

Shopping Quotes #4
Shopping is a woman thing. It's a contact sport like football. Women enjoy the scrimmage, the noisy crowds, the danger of being trampled to death, and the ecstasy of the purchase.
Erma Bombeck

Shopping Quotes #5
The quickest way to know a woman is to go shopping with her.
Marcelene Cox

Shopping Quotes #6
Shopping is better than sex. If you're not satisfied after shopping you can make an exchange for something you really like.
Adrienne Gusoff

Shopping Quotes #7
I like my money right where I can see it: hanging in my closet.
Carrie from Sex and the City

Shopping Quotes #8
The odds of going to the store for a loaf of bread and coming out with only a loaf of bread are three billion to one.
Erma Bombeck

Shopping Quotes #9
If men liked shopping, they'd call it research.
Cynthia Nelms

Shopping Quotes #10
Anyone who believes the competitive spirit in America is dead has never been in a supermarket when the cashier opens another checkout line.
Ann Landers

I hope you've enjoyed this Top 10 List of Funny Quotes About Shopping.
Didn't find the quotes about shopping you were looking for?
Search my site or the web below:
---
Return To Funny Shopping Quotes Top

Return From Funny Shopping Quotes To Scrapbooking Quotes

Return From Quotes About Shopping To Home Page