Top 10 List -
Famous History Quotes
Are you searching for Famous History Quotes and Quotations? If so, you're going to enjoy this amazing collection of quotes about history that I've compiled for you. This list includes some of the greatest history quotations ever written. Enjoy these great quotes!

My Favorite History Quotation Of All Time...


If you want to understand today, you have to search yesterday.

Pearl Buck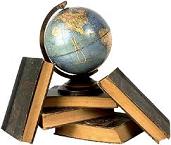 Top 10 Famous History Quotes & Quotations
Quotes About History #1
Anybody can make history. Only a great man can write it.
Oscar Wilde

Quotes About History #2
What is history? An echo of the past in the future; a reflex from the future on the past.
Victor Hugo

Quotes About History #3
History is a novel for which the people is the author.
Alfred de Vigny

Quotes About History #4
History is a kind of introduction to more interesting people than we can possibly meet in our restricted lives; let us not neglect the opportunity.
Dexter Perkins

Quotes About History #5
Every true history must force us to remember that the past was once as real as the present and as uncertain as the future.
George Macaulay Trevelyan

Quotes About History #6
The history of free men is never really written by chance but by choice - their choice.
Dwight David Eisenhower

Quotes About History #7
History is a guide to navigation in perilous times. History is who we are and why we are the way we are.
David C. McCullough

Quotes About History #8
Those who cannot learn from history are doomed to repeat it.
George Santayana

Quotes About History #9
History is a symphony of echoes heard and unheard. It is a poem with events as verses.
Charles Angoff

Quotes About History #10
The challenge of history is to recover the past and introduce it to the present.
David Thelen

I hope you've enjoyed this Top 10 List of Famous History Quotations.
Didn't find the history quotations you were looking for?
Search my site or the web below:
---
Return To Famous History Quotes Top

Return From History Quotations To Scrapbooking Quotes

Return From Famous History Quotations To Home Page