Top 10 List -
Inspiration Quotes
This list of Inspiration Quotes is absolutely loaded with some of the greatest inspirational quotes ever spoken. These inspiring quotes will definitely give you that boost of inspiration you're looking for. Enjoy these great quotes!

My Favorite Inspiring Quote Of All Time...


Shoot for the moon. Even if you miss, you'll land among the stars.

Les Brown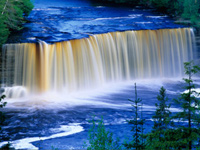 Top 10 List Of Inspiring Quotes
Inspirational Quote #1
The best way to predict the future is to create it.
Unknown

Inspirational Quote #2
The reward of a thing well done is to have done it.
Ralph Waldo Emerson

Inspirational Quote #3
Think big thoughts, but relish small pleasures.
H. Jackson Brown

Inspirational Quote #4
Luck is a matter of preparation meeting opportunity.
Oprah Winfrey

Inspirational Quote #5
He that can have patience can have what he will.
Ben Franklin

Inspirational Quote #6
The difference between the impossible and the possible lies in a person's determination.
Tommy Lasorda

Inspirational Quote #7
The highest reward for a person's toil is not what they get for it, but what they become by it.
John Ruskin

Inspirational Quote #8
The hardest thing in life is to learn which bridge to cross and which to burn.
Laurence J. Peter

Inspirational Quote #9
If you want the rainbow, you have to put up with the rain.
Unknown

Inspirational Quote #10
He who limps is still walking.
Stanislaw J. Lec

I hope you've enjoyed this Top 10 List Of Inspiration Quotations.
Didn't find the quotes you were looking for? Search my site or the web below:
---
Return To Inspiration Quotes Top

Return From Inspiring Quotes To Inspirational Quotes Page

Return From Inspiring Quotes To Home Page