Top 10 List -
Quotes About Teenagers
Are you searching for the greatest Quotes About Teenagers? If so, you've definitely come to the right place. I've compiled a list of teenager quotes that includes the best quotes ever written about teens. Whether you're looking for funny teenage quotes, cute teenage quotes or any other teen quotes...you'll find them here. Enjoy these great quotes.

My Favorite Teen Quote Of All Time...


Attention Teenagers! NO is a complete sentence!

Author Unknown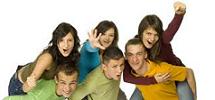 Top 10 Quotes About Teenagers
Teenager Quotes #1
Few things are more satisfying than seeing your children have teenagers of their own.
Doug Larson

Teenager Quotes #2
There is nothing wrong with today's teenager that twenty years won't cure.
Author Unknown

Teenager Quotes #3
Little children, headache; big children, heartache.
Italian Proverb

Teenager Quotes #4
At fourteen you don't need sickness or death for tragedy.
Jessamyn West

Teenager Quotes #5
Don't laugh at a youth for his affectations; he is only trying on one face after another to find a face of his own.
Logan Pearsall Smith

Teenager Quotes #6
How beautiful is youth! How bright it gleams with its illusions, aspirations, dreams!
Henry Wadsworth Longfellow

Teenager Quotes #7
Heredity is what sets the parents of a teenager wondering about each other.
Laurence J. Peter

Teenager Quotes #8
Never lend your car to anyone to whom you have given birth.
Erma Bombeck

Teenager Quotes #9
Hmmm! Teenagers. They think they know everything. You give them an inch, and they swim all over you.
Sebastian, "The Little Mermaid"

Teenager Quotes #10
I am every emotion times ten, I conform yet I'm rebellious, always obeying but somehow still an outlaw, always talking but never heard, I am a teenager.
Author Unknown

I hope you've enjoyed this Top 10 List of Teen Quotes.
Didn't find the teen quotes you were looking for?
Search my site or the web below:
---
Return To Quotes About Teenagers Top

Return From Teen Quotes To Scrapbooking Quotes

Return From Teenage Quotes To Home Page